Travertine Polishing In The Houston Area
Houston was established in 1837 and has grown to be one of the largest cities in the United States. Houston's ever growing population has led to the development of many popular residential neighborhoods.
Midtown, Montrose, Houston Museum District, and Houston Heights are just a few examples.
A hugely popular addition to these residential homes is travertine. With travertine floors going in all over Houston the need for experts is expanding. Texas Floor Restoration knows how to properly clean, grind,
polish, and install the proper sealers. Texas Floor Restoration is ready for your travertine polishing needs all over the Houston area.
Travertine Polishing Services: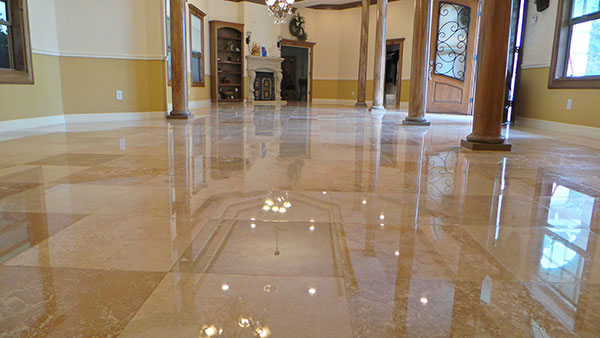 Do you have or want polished travertine?
Whatever your needs are Texas Floor Restoration has the training and experience you need to polish your travertine. At Texas Floors we use state-of-the-art diamond pads and specially formulated compounds. With these two components we can achieve a highly polished surface with a great deal of clarity.
Travertine polishing processes can be achieved many different ways. Different companies have different processes to polish travertine. What technique is the best, and who can I trust?
The most popular process to polish travertine is acid polishing. Steel wool is used. This process is most commonly known as crystallization or vitrification. This particular process is not recommended by Texas Floor Restoration. Our reasoning is thoroughly explained in the video featured on our homepage.
Another popular travertine polishing process is diamond polishing. Diamond polishing is running a very fine grit diamond with water until you receive the desired polish. This technique used alone is not recommended by Texas Floor Restoration. Although we do use this method it combined with a unique powder polish. These two processes used together creates the perfect polish for your newly cleaned travertine floor.
As stated about another system for polishing travertine is with polishing powders, pastes, or diamond pads. These pastes and powders are very complex. This alone is not recommended by Texas Floor Restoration because we feel that we can achieve a better result with our new technology.
Now for what we do recommend. At Texas Floor Restoration we are trained to be able to polish with all the above techniques, and technologies. When using a combination of diamond polishing and powder polishing we have created the perfect polish for any travertine floor.
How to Polish Travertine
To polish travertine you must start off with a clean floor. The next step would be to evaluate the travertine to see how badly the floor is scratched etched or how healthy the floor is so we can determine how deep you must go with your diamonds. Typically most floors will start off with a #400 diamond and then proceed with the next steps #600-#800-#1800-#3000-#6000 diamonds (Every system is different this is just a generic example). After running all your diamonds you can begin the process of deciding on a grade of polish. Every customer is different, every home is different, and every travertine is different.
Feel free to ask your Texas Floors technician to provide samples of shines so that you can make your decision on preference.
Polished Travertine Pros & Cons
PROS:
With a polished travertine we can use more hardener in the water solution when grinding the floor with our diamonds. This makes the surface harder and scratch resistant.
Polishing will also bring out the natural colors in the tile and act as an enhancer.
CONS:
The high shine on your floor can create holes, dirt, and worn area to become more noticeable. If your travertine has some noticeable blemishes a lower shine may be the way to go.
Once again the shine is a personal preference. Please feel free to reach out with any questions about polishing travertine. Our travertine technicians love to answer any travertine polishing questions.