Saltillo Cleaning
At Texas Floor Restoration we offer unparalleled cleaning sealing and polishing services to the famous Saltillo Mexican tile. We offer a wide variety of services just to list a few.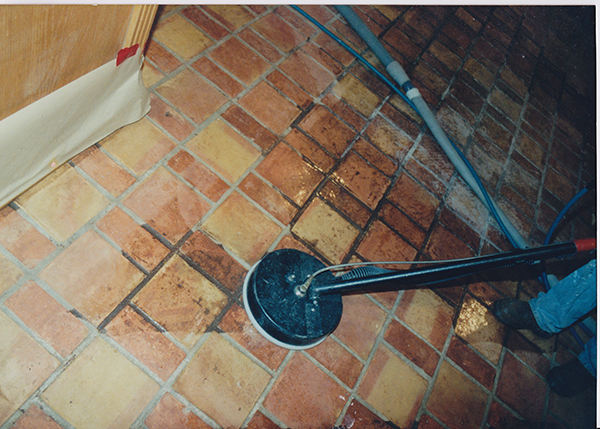 Remove old finishes
Remove stains
Apply new stains
Fix effervesce problems
Deep cleaning
Specialize in resealing or coatings
Polishing old sealers
Brick and Saltillo
A brick is a block or a single unit of a ceramic material used in masonry construction. Typically bricks are stacked together or laid as brickwork using various kinds of mortar to hold the bricks together and make a permanent structure. Brick pavers can also be used in exterior landscaping; they are installed by a compacted stone sub-base and a leveling bed of sand. Concrete paving stones can be used for walkways, patios, pool decks and driveways. Bricks are typically produced in common or standard sizes in bulk quantities. They have been regarded as one of the longest lasting and strongest building materials used throughout history. Brick might be made from clay, lime-and-sand, concrete, or shaped stone. In a less clinical and more colloquial sense, bricks are made from dried earth, usually from clay-bearing subsoil. Most commonly the clay is fired in a kiln of some sort to form a true ceramic. In conclusion, brick is a solid and withstanding flooring that can be used in the interior or exterior of any home or business. Whether you are repairing an older brick floor to look like new or completing the installation on a new brick floor; Texas Floor Restoration knows brick.
Saltillo tile is a type of terra cota tile that originates in Saltillo, Mexico. Saltillo tile can vary in both color and shape, but the majority range from in varying hues of reds, oranges and yellows. Tiles are shaped either by pressing quarried clay with a wooden frame, or carving out the desired shape. Depending on the tile's placement among other tiles at the time of firing, its color ranges from yellow to a rich orange. Saltillo tile is highly porous and soaks in liquid easily.This can make it a very tricky tile to work with. Unlike most ceramic tile, there is no glaze on the top surface of the tile. It is difficult to install as it absorbs water from the thin-set mortar,thin set, etc. Once placed, it stains and scuffs easily if not properly sealed and maintained with a quality sealant. Saltillo is very durable as an outside tile in a warmer climate. During installation the tiles should be handled carefully to avoid stains that can even occur from body oils on the installer's hands. Saltillo tile may be sealed with a penetrating sealant or a film forming sealant. In conclusion. while saltillo is a very delicate floor it can be a beautiful addition to any interior or exterior space. Whether you are restoring an old saltillo floor, or sealing a new saltillo floor, Texas Floor Restoration knows saltillo.